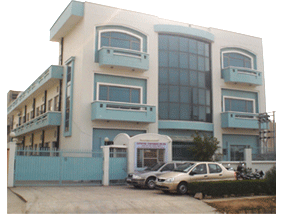 Established in the year 1986 in the name of SUPER PRECISION COMPONENTS( ISO/TS 16949:2002). Manufactur of Precision Turning components, Rivet, Screws, Nut & Bolts & sheet metal components in Hari Nagar, New Delhi.
Considering the future and to improve the productivity we have started our new sophisticated plant in IMT Manesar, Gurgaon named SUPERFINE COMPONENTS PVT. LTD. An ISO/TS 16949:2002 Certified Company with all equipped machineries. Considering the future and to improve our productivity Superfine Components conducts its manufacturing process at its Modish and Sophisticated Plant located at IMT Manesar, Gurgaon. We are fully equipped with the latest machineries, skilled manpower and polished organizational credentials.

Company engaged in manufacturing of Bright bar turned components, tanular components, Plastics components fasteners, sheet metal components & CNC machined components . Our ultra modern manufacturing plant with all infrastructure facilities is strategically located at Manesar, Gurgaon with our production facility run and managed by a highly skilled team of professionals, we are continuously striving at setting new standards of precision and reliability.

Total satisfaction to our customers by way of quality of products.
A work culture focused on productivity, quality, employee satisfaction, growth, transparency and trust.
An infrastructure to meet individual specification of the clients with customized solution.
Our core commitment is not only to be contributing significantly in the growth of automobile industries, but also to expand the application areas for engineered turned components. Our goal is to touch the lives of the maximum possible people in the maximum possible ways

Automobile Industries.
Engineering Industries.
Electrical Industries.
Electronics & Home Appliances.

"To have a futuristic perspective, acquire a global outlook, and to become a major auto parts manufacture and exporter"

We work towards achieving total customers satisfaction by ensuring on-time delivery and a diversified product range that include Bright Bar Turned components, CNC Machined Components, Precision Tubular Components, plastic moulded components, Fasteners, Cold Forging, Sheet Metal Components that are highly consistent in quality. We make continuous efforts in order to build up mutually beneficial relationship with our vendors and employees for the wholesome betterment of the society.
SUPERFINE COMPONENTS PVT. LTD.
A Quality Driven Company with Focus on Total Customer Satisfaction
(An ISO/TS 16949:2002 Certified Company)